We'll recommend the best gutter guards to protect your gutters and make maintenance easier.
Gutters are a necessity that protects your home from water damage, but they can be a pain to maintain. If you clean out your gutters in the spring and fall like most experts recommend, you probably know that it is a time-consuming and potentially dangerous task.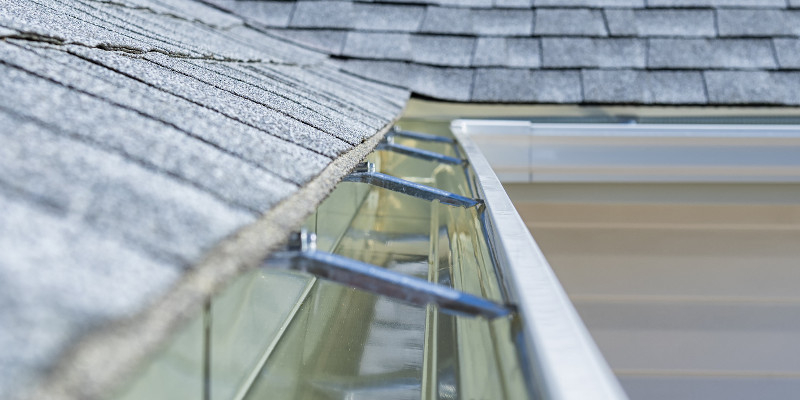 Few people want to spend hours of their free time scooping debris out of their gutters. Even fewer want to risk falling off a ladder and ending up in the hospital. However, it is a very important task to complete because as your gutters collect leaves, mud, moss, insects, twigs, and other debris, they get clogged and water can't flow through them effectively. Fortunately, there's a solution that can protect your gutters and prevent buildup: gutter guards.
Gutter guards are made of mesh material, screen, solid or perforated aluminum. They go over the top of your gutters to let water in while keeping large debris like leaves and twigs out. With gutter guards, you don't have to worry about cleaning out your gutters so frequently, and you can rest assured that there won't be clogs in the system to cause water damage.
At Universal Home Solutions, we offer and install gutter guards for many homes in Indian Trail, North Carolina. Some of the brands we carry include GutterRx and LeaFree, but you can rely on us to recommend the best brand for your needs. While gutter guards have many benefits, they are not ideal for every home, depending on factors like roof pitch, architectural design, and drainage. If gutter guards are not a good solution for your home, you can trust us to be honest with you.
If you are interested in gutter guards, contact us today for more information.
---
At Universal Home Solutions, we offer gutter guards in Matthews, Ballantyne, Charlotte, Cotswold, Dilworth, Harrisburg, Indian Trail, Marvin, Mint Hill, Monroe, Myers Park, Pineville, South Charlotte, South Park, Waxhaw, Weddington, and Wesley Chapel, North Carolina.