We can install high-quality gutter guards on your home.
Are you tired of having to spend hours of your valuable free time cleaning the gutters of your Mint Hill, North Carolina home? Do you worry about the safety risks that come with DIY gutter cleaning? Maybe you choose to hire someone to clean your gutters for you but would rather spend your hard-earned money on other things. No matter what your situation is, gutter guards installed by our team at Universal Home Solutions can help make the work involved with keeping your gutters clean a thing of the past.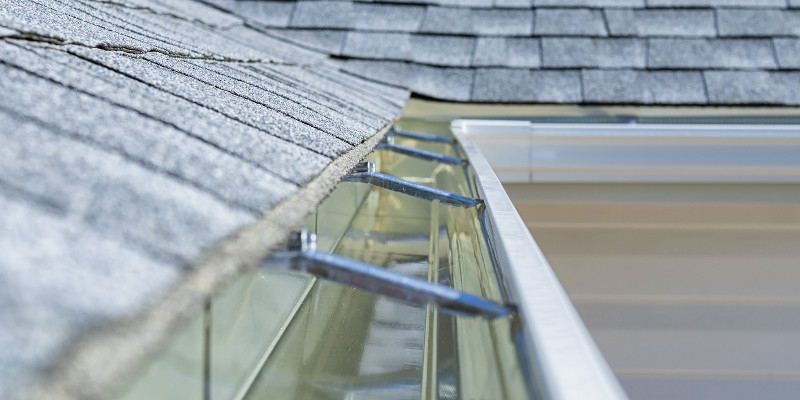 Gutter guards are installed over the top of gutters and act as a barrier to prevent things like leaves, pine needles, and other roof debris from falling in and building up over time. They're a great way to prevent clogs in your gutters, which can help reduce drainage issues and insect infestations.
We know that gutter guards are not designed to fit every style of home. Occasionally, things like the pitch of the roof or the condition of your gutters detract from their effectiveness and make them an unwise investment for the homeowner.
If it turns out that your roof isn't a good fit for gutter guards, we will be completely honest with you and recommend against installing them because our top priority is providing excellent service, not making a sale. If the problem is the condition of your current gutters and you decide you want to explore your options for new gutter installation, we can offer recommendations for what style would best fit your home and can even handle the installation for you.
If you're interested in learning more about gutter guards or would like to schedule an appointment to see if they would be a good fit for your home, reach out to us today for more information.
---
At Universal Home Solutions, we offer gutter guards in Matthews, Ballantyne, Charlotte, Cotswold, Dilworth, Harrisburg, Indian Trail, Marvin, Mint Hill, Monroe, Myers Park, Pineville, South Charlotte, South Park, Waxhaw, Weddington, and Wesley Chapel, North Carolina.